Erecting big buildings.
OCMER was established in 1994 in Poland as a regional branch of the Dutch company REMCO. REMCO is one of Europe's leading manufacturers of light steel halls. Since their establishment in the 1970's, they have built over 3000 buildings.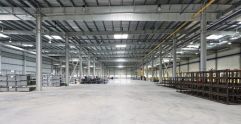 OCMER, like its sister company, is famous for building very high-standard halls using REMCO's technology and years of experience as a base. Operating in Poland, OCMER makes full use of domestic production and provides tailor-made solutions that are designed to suit the specific needs of the investors.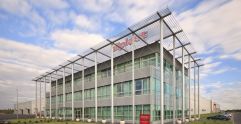 OCMER now has in its portfolio hundreds of perfectly designed and executed buildings as well as many project management references in building sites.
Investors who need turnkey solutions to their steel halls can make use of OCMER's well-known technical capabilities, their professionalism and even their efficiency. Whether you are looking for technical consultancy, delivery and assembly, project management, investment trusteeship, or even just need help in obtaining building permits in Poland, OCMER can assist you.
Steel Halls come in many different shapes, sizes, and even work towards several purposes. No matter what your purpose for building a steel hall, you can count on OCMER as the leading company in the industry. Some of their references include:
Workshops
Warehouses
Market Halls
Sports Halls
Logistic complexes
Waste sorting plants
Service stations
And many more purposes
In addition to being experts in their field, OCMER are known for their high level of customer satisfaction. With a long list of clients in Poland, it is only natural that if you are looking into this type of construction in that area that you consult OCMER.
Visit OCMER's website today and get more details into how the process goes. You can even enjoy a 360 degree view of steel halls being built in every stage of their progress.
Contact data of OCMER – Polish construction company.
Get all contact data like website, address and more on the Polish Companies Directory – CLICK HERE.